No Two Clean Rooms Are Alike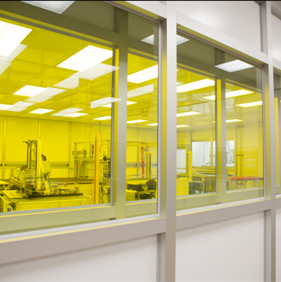 The classification of clean rooms (the level of measured particulate size and count) can run the gamut and so do the construction challenges. Once the clean environment classification is established, then the fun begins. The most typical classifications run from the cleanest-Class 1 (ISO 3) to Class 100,000 (ISO 8), a range based on allowable particulate.
Classification dictates how the project will be completed. In general, surfaces need to be smooth, and wipe down friendly as required to meet your clean protocol. Materials for walls, floor and ceiling need to meet design specifications as well as the air entry and flow filtering requirements. The environmental controls are also extremely important—with air temp, humidity, light and sound requirements being critical.
What is critical to your successful cleanroom project is bringing in CoBeck Construction Co. as early as possible into the planning process. This helps in many ways. When we tackle a cleanroom project the process and communications is first and foremost. Key steps need to be followed from preliminary design, initial assessment and front-end planning to construction documentation, procurement, construction and validation. Within these steps, the project relationships between the customer, the design team, subcontractors and CoBeck Construction Co. will ensure the entire design/construct process meets your requirements and exceeds your expectations.
CoBeck's expertise in cleanroom construction ensures construction of your project meets your required classification from the "as-built" level through the "operational" status.
What is needed mechanically and electrically? Is the layout optimized? How much of the construction is prefab? Did you bring a construction company in early?
We have constructed cleanrooms in the medical device, semiconductor manufacturing and biotech industries, all with varying degrees of classification and construction requirements. On almost all projects, we were brought in, early-on in the planning phase to assist in the heavy coordination of mechanical, electrical, and other impacted scopes.